Welcome to the Home Page of the
---
UPDATE!! June 7, 2002!
Coming soon!! The Mark II Stealth Putter is almost ready for shipment! Check back often for updates and shipment details for the upgraded Stealth!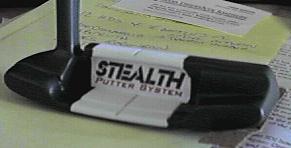 "What you don't see can help you most"

Buttons available soon!
Navigating your way around this site
What is the Stealth Putter System?
How to putt
History of the Stealth
How to order
Home
---
The Stealth Putter is the copyrighted property of Stealth Putter Golf, Statesboro, GA